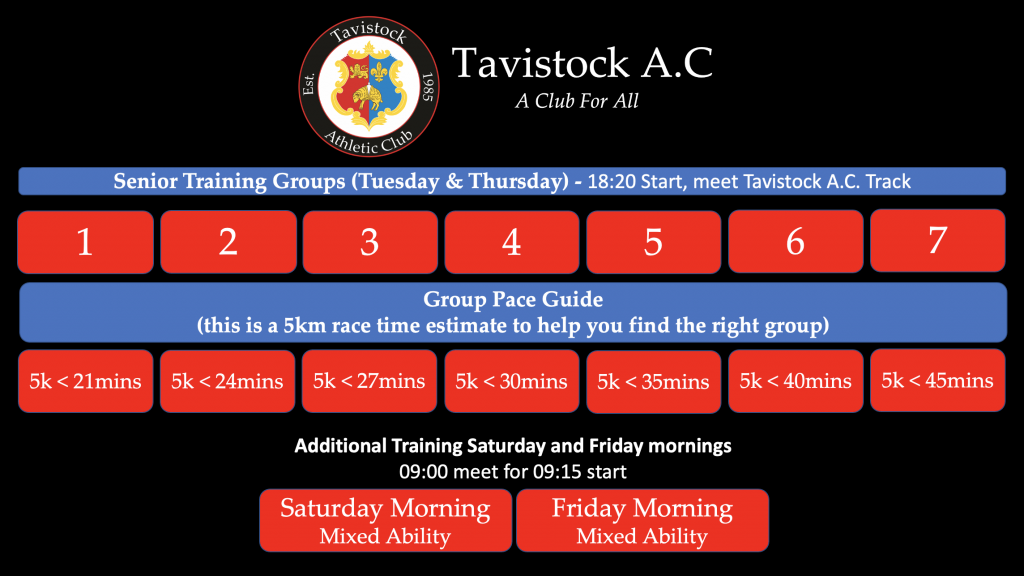 Senior Training Sessions (Tuesday & Thursday)
The senior's athletes pathway shown above should allow you to be able to identify with group you are most suited to run with.  For example if your estimated 5k time is 28 minutes you can be assured that you will fit in group 4 well and know that you're not going to get left behind or be running off the front.
Please note that these groups are designed specifically to ensure a safe and even spread across the club. It ensures that groups are not too spread out and so coaches and leaders are able to safely manage the numbers. Most of all it ensure that you get the very best training/ running experience.
With this in mind it is essential that members run in groups that are right for them. Feel free to speak to the coach or leader if you feel that maybe you should move up or down a group, we will welcome runners moving across groups to ensure everyone gets the best experience.
The groups also allow a clear transition for those that are getting faster and for those who have maybe lost some fitness through time off running. You'll be able to decide at any point that you want to move up or down a group to suit your fitness at that time.
If you haven't run a 5k recently or at all then there are several 5k events each month locally including our very own Tavy 5 held on the 3rd Saturday of every month.  Alternatively you can just estimate what your 5k time would be.
Please be reassured that if you find that you've picked a slightly faster or slower group that you envisaged, we will support you to complete the session feeling part of the group and also support you to move to a better paced group.
If you're really stuck you can use the easy run pace guide below which will also give you some indication of which group will be best suited for you.
Easy run guide (this is just a rough guide using the pace of your easy runs if you absolutely can't use a 5k time) – paces are in minute/mile
Group 1 – 8:15 or faster
Group 2 – 9:30 – 8:15
Group 3 – 10:30 – 9:30
Group 4 – 11:15 – 10:30
Group 5 – 12:00 – 11:15
Group 6 – 12:45 – 12:00
Group 7 – 13:30 – 12:45
New Meeting Point
The club still meet at the Tavistock Community College at 6:20 pm on a Tuesday and Thursday but we now will meet by the garage on the Running Track and not the sports hall. Image below to show how to walk to the garage without going on the track itself.