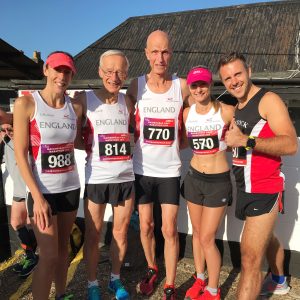 Tavistock AC had four athletes don the England vest to represent their country at the Maidenhead Half Marathon incorporating the England Masters Half Marathon Championships. 
The sun shone bright in the sky as the team stood for the large team photo in front of a sea of photographers. 
As the race began James Armstrong, in his club vest set off strongly. England clad athletes followed close behind with the sun making conditions a little warm to say the least. All athletes gave a good showing with James finishing first back for the club in 1:21:33. Swiftly behind was Sam Lake in 1:27:30 and Jodi Fisk in 1:29:01. Allan Herdman dug deep to finish with a 1:31:37. Andy Houghton had an absolutely brilliant race to finish in 1:40:34. Sheila Houghton in her club vest crossed the line in 2:13.42.